Urinary Tract Infection
It is among one of the most prevailing infectious diseases in the community with significant clinical and financial burden.
Urinary tract infection refers to the microbial colonization and infection of the structures of the urinary tract.
It is divided by the site of infection such as pyelonephritis, cystitis, and urethritis. The condition can also be classified as uncomplicated or complicated.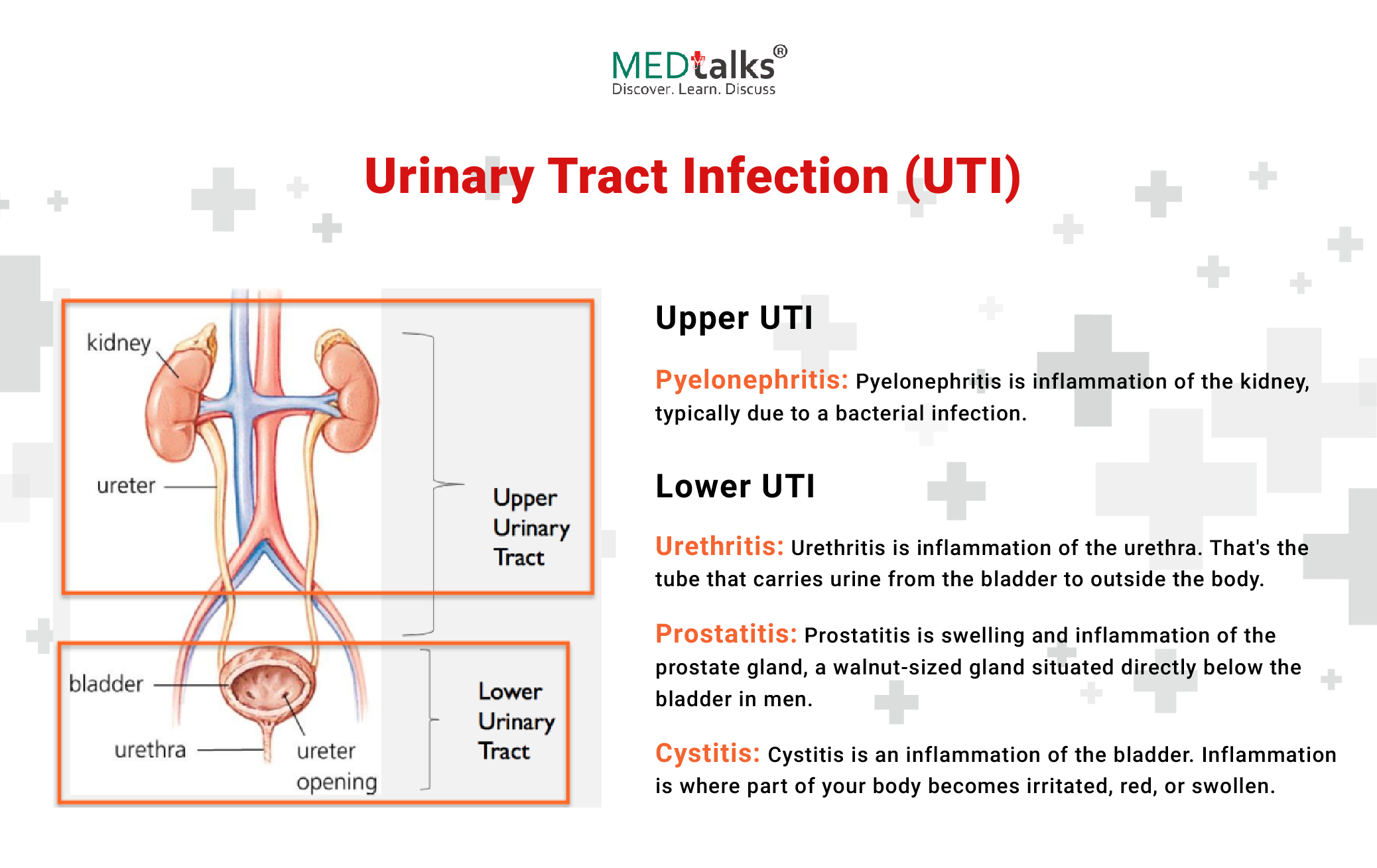 Uncomplicated versus complicated UTI

Complicated UTI is an infection linked with a condition, such as a structural or functional abnormality of the genitourinary tract, or the presence of an underlying disease. This raises the risk of the outcome of a UTI being more serious in comparison to infection in individuals without any identified risk factors, i.e. uncomplicated UTI.
Recurrent UTI
Recurrent urinary tract infections are symptomatic occurring after the resolution of an earlier episode, usually after appropriate treatment.
Recurrent infections commonly occur among young, healthy women, even though these women generally have anatomically and physiologically normal urinary tracts.
A clinical diagnosis of recurrent UTI can be made through a urine culture. In women with recurrent UTIs, imaging of the upper urinary tract and cystoscopy is not routinely recommended for evaluation. However, they should be performed without delay in patients with atypical symptoms, like obstructive symptoms or presence of haematuria after resolution of infection.
Asymptomatic bacteriuria (ABU)
It does not cause renal disease or damage. Evidence has shown that involving women and the paediatric population have shown that treatment for ABUincreases the risk of subsequent symptomatic UTIs; hence, it is not recommended except in diagnostic and therapeutic procedures involving entry to the urinary tract with a risk of mucosal damage, such as endoscopic urological surgery and transurethral resection of the prostate.
Diagnosis of UTI
The diagnosis of acute uncomplicated cystitis is based ona focused history of lower urinary tract symptoms (dysuria, frequency, and urgency) in a patient with no risk factors for complicated UTI.
Urine dipstick analysis: reasonable alternative to urine culture to diagnose acute uncomplicated cystitis.
Urine cultures: recommended for patients with risk factors for complicated UTIsin the situations provided below:
Suspected acute pyelonephritis
Symptoms that do not resolve or recur within 2-4 weeks after completion of treatment
Women who present with atypical symptoms
Pregnant women
Male patients with suspected UTI
Risk factors for
Young and premenopausal women
• Sexual intercourse
• Use of spermicide
• A new sexual partner
• A mother with a history of UTI
• History of UTI during childhood
Post-menopausal and elderly women
• History of UTI before menopause
• Urinary incontinence
• Atrophis vaginitis due to oestrogen deficiency
• Cystocoele
• Increased post-void urine volume
• Blood group antigen urine secretory volume
• Urine catheterisation and functional status deterioration in elderly institutionalised women
Differential diagnosis
It is clinically important to note the possibility of urogenital tuberculosis and malignancy presenting with persistent, non-resolving UTI symptoms.
Management
The choice of treatment option for UTIs depends on the complicated or uncomplicated category of UTI.
Uncomplicated UTIs: Antibiotics such as Fosfomycin, nitrofurantoin, are used for the treatment of acute uncomplicated cystitis in otherwise healthy adults.
Simple uncomplicated cystitis responds very well to oral antibiotics
Pyelonephritis: It is important to correctly differentiate between acute uncomplicated forms and complicated often obstructive forms of UTI that need diagnosis through imaging. In mild and moderate cases, recommended initial empirical oral antimicrobial therapy are ciprofloxacin and cotrimoxazole.
Urosepsis: Early appropriate treatment can prevent urosepsis
Patients should be referred to the emergency department if patients are clinically septic or have restricted to early imaging
Complicated UTIs: Treatment strategy depends on the severity of the illness and hospitalization is often needed.
The choice of a treatment strategy for complicated UTIs depends on the severity of the illness and encompasses three treatment goals:
Management of the urological abnormality
Antimicrobial therapy
Supportive care when needed
Hospitalization is needed and then therapy should be guided by urine cultures when possible to avoid the emergence of resistant strains.
Treatment for 7-14 days is generally recommended,but the duration is dependent to the treatment of the underlying abnormality.
Highlights of treatment
Early use of broad-spectrum antibiotics
Antibiotic coverage should be based on culture results
Relief of existing urinary obstruction based on results of imaging studies
Recommended oral antibiotic options include fluoroquinolones, amoxicillin-clavulanate and aminoglycosides
If the empirical treatment fails, hospitalization and intravenous antibiotics are needed
Referral to a specialist
Specialist referral is needed in following cases.
All lower urinary tract symptoms in men
UTIs in the paediatric age group
UTIs with characteristics such as severe symptoms, failed medical therapy, evidence of retention, abnormalities detected on ultrasonography or cytology such as calculi or bladder tumour
Recurrent UTIs with risk factors for complicated UTI, a suspected surgically correctable cause, an uncertain diagnosis of UTI for recurrent lower urinary tract symptoms
Clinical pearls
Antibiotics are not needed for ABU
UTIs are one of the most common bacterial infections seen by primary physicians and most uncomplicated UTIs can be treated in the outpatient setting with relevant antibiotic
Simple lower-tract UTIs can be treated with appropriate oral antibiotics with no need for urine culture
Outpatient treatment for acute pyelonephritis may be linked with a significant failure rate; and in such cases urine culture and close follow-up is needed
A complicated UTI is an infection linked with a condition like structural or functional abnormality of the genitourinary tract or the presence of an underlying disease, increasing the risk of the UTI with an outcome which is serious compared to those with an identified risk factor
Specialist review is necessary in case of all males with a UTI can all infants aged under three months with a possible UTI
Resources
Patel HB, Soni ST, Bhagyalaxmi A, Patel NM. Causative agents of urinary tract infections and their antimicrobial susceptibility patterns at a referral centre in Western India: An audit to help clinicians prevent antibiotic misuse. Journal of family medicine and primary care. 2019; 8: 154-159.
Tan CW, Chlebicki MP. Urinary tract infections in adults. Singapore Med J. 2016; 57: 485-490.