COURSE CURRICULUM
This video deals on what is hepatitis, most common form of viral hepatitis and what are infectious and non-infectious forms of hepatitis. It also explains what are the other causes of hepatitis beyond infection, causes of Ischemic and congestive hepatitis, how small/big dosage of alcohol affects both male and female and causes liver disease and cirrhosis and many other liver disease. We also get to know how can the doctor suspect the possibility of hepatitis if any patient comes to them, how to diagnose auto-immune hepatitis and when to suspect that hepatitis is not viral and what are the practice changing sutra's for its treatment . In the later part of the video we get to know the important drugs that can cause hepatitis and what are the differential diagnosis in hospital setting for the hepatitis.
MODULES
CME on Hepatitis Beyond Infections
INSTRUCTORS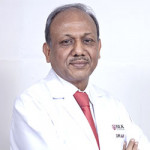 Dr. Ajay Kumar is a Chairman and HOD - Institute for Digestive and Liver Diseases at BLK Super Speciality Hospital, New Delhi. He completed MBBS from Punjab University, Chandigarh in 1980, MD - Medicie from Postgraduate Institute of Medical Education and Research, Chandigarh in 1984 and DM - Gastroenterology from the University of Delhi in 1987. Dr. Ajay has been awarded BC Roy Award from the President of India. He is an experienced clinician with a special interest in Pancreatico Biliary Disease, Luminal Gastroenterology and advanced Therapeutic Endoscopy. Dr. Ajay Kumar has more than forty publications in the national and international journals and more than 20 papers presented at Conference. He has contributed 17 Book Chapters. Before joining Fortis Hospital, Dr. Ajay Kumar has served in Indraprastha Apollo Hospital, G B Pant Hospital and other prestigious institutes.
---